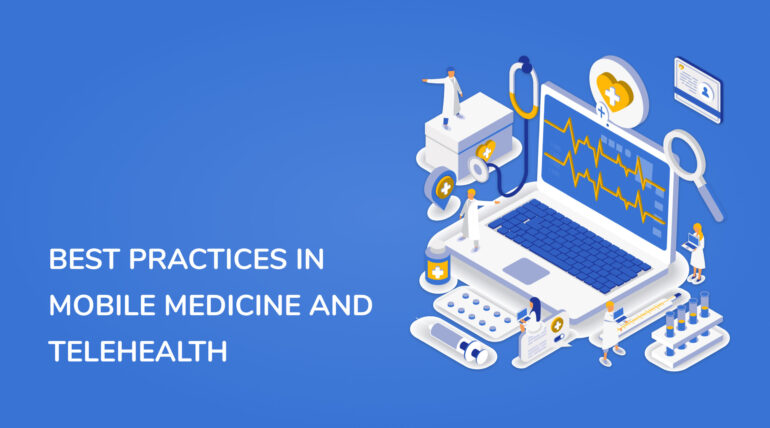 Many physicians seek advice on how to efficiently use telemedicine since COVID-19 has sparked growth in telemedicine. To seasoned experts, it's surprising how quickly it's spreading around the globe.
All levels of the federal government are implementing President Biden's Executive Order to improve cybersecurity. Our five best practices are high impact:
– Multi-factor authentication (passwords alone are typically compromised)
– Endpoint detection and response (to identify malicious conduct on a network and stop it)
– Encryption (so stolen data is inaccessible)
– Training for IT staff
– Empowered security team (to patch rapidly, and share and incorporate threat information).
It is important to regularly test your backups for accuracy and to keep them offline as often as possible. All ransomware variants attempt to find and encrypt or delete accessible backups. In case of ransomware attacks, having current backups offline is critical so you can restore data. This includes updating the operating system, applications, and firmware. Utilize a risk-based assessment program for your patch management program; consider a central patch management system.
An incident response plan that is tested will show the gaps in the plan more than one that is not. You can use the following questions to draft your incident response plan:
– Can the business continue to operate without certain systems?
– What is the duration of the project?
– Are you willing to shut down your manufacturing operations if business systems such as billing were down?
Utilize a 3rd party pen tester to ensure that the security of your system and your ability to defend against sophisticated attacks is up to par. The majority of ransomware criminals are aggressive and sophisticated, and they will find an unlocked door. Ransomware has advanced from stealing data to disrupting operations in recent years.
Corporate communications are of utmost importance to the successful operation of businesses. Make sure manufacturing/production operations are separated, and that internet access to operational networks is carefully filtered, identified, and workarounds or manual controls are developed so that the ICS network can be isolated and continue operating if the corporate network is compromised. Conduct regular testing of contingency plans, including manual controls, so vital services can be maintained.
Steps to a Definitive Telemedicine Guide
Set clear goals
Right at the beginning, you should think about the goals of your telemedicine program. With clear goals and objectives, you have to measure your progress. Think about how you want your telemedicine program to impact revenue, customer satisfaction, wait times, no-shows, cancellations, staff efficiency, patient retention, new patients, and any other measurements that are relevant to your practice.
Engage your staff
In order to roll out your telemedicine program, you should involve a variety of people within your practice. Establish a task force that includes providers who will be using telemedicine, people who will schedule appointments, any available technical resources, and other business professionals who might be able to help. Participants will feel more invested in a successful program if they are involved early on.
Know Your State's Reimbursement Rules and Regulations
Telemedicine reimbursement policies and laws vary widely by state. Telehealth has become a more important tool for public healthcare as institutions have become more progressive. In this regard, 26 states have "parity" laws that require reimbursement for remote video visits. In reality, however, there is not a uniform approach, so you should familiarize yourself with the local regulations.
Technology Partners, You Should Work With
Telemedicine technologies come in a variety of forms. Consider the following solution
– Patient-friendly and easy to us
– HIPAA-compliant and secure
– Equipped with a means to verify whether a patient is eligible for reimbursement
– The EHR solution is integrated
Determine how you are going to use telemedicine
Telemedicine is not universally utilized. You can adjust your strategy to your practise to meet its specific requirements. You may organise video visits for off-hours or block out particular times during the week for remote visits if necessary. You may already help increase revenue and utilisation by using video for follow-up calls. Video meetings are more likely to be compensated than phone calls.
Promote the service
Make sure your patients are aware that video visits are a possibility. Consider putting up notices throughout the office, sending an email, or including it in every in-person meeting. In this increasingly competitive environment where retail health clinics and online-only practices are gaining market share, knowing that there is an option available to patients may be enough to keep them loyal to the practice.
Set Goals and Measure Success
As you begin seeing patients through telemedicine, don't forget to revisit your goals periodically. Depending on how you achieve your goals or how well your program works, you may need to adjust it. Besides rewarding your team for achieving goals, you should also recognize them for their efforts.
Conclusion:
It is critical to introduce telemedicine deliberately if you wish it to have a positive impact on your practice. You can use these tips to develop a healthy telemedicine program. It is important to gather feedback from staff and patients whenever you introduce something new. Consider how you can incorporate the insights of both groups into your program.