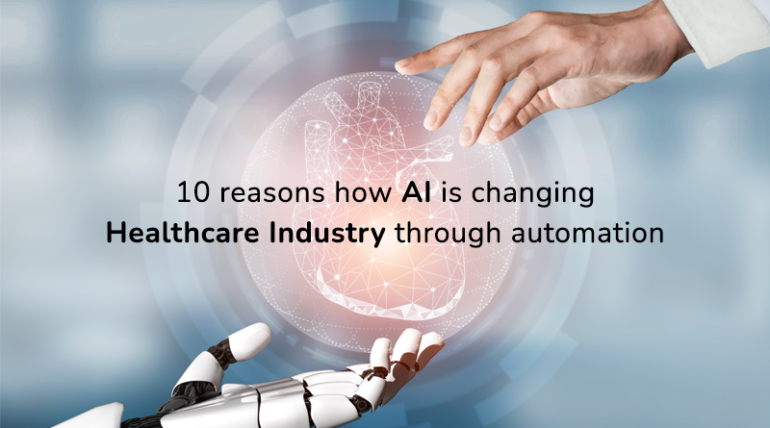 Artificial intelligence applications in healthcare will represent a $34 billion market by 2025. The AI healthcare space will generate revenue across many applications, from data security to streamlined workflows. 
Artificial intelligence in healthcare has grown tremendously due to the benefits it offers to both healthcare providers and their patients. AI can recognize complex patterns within raw data. It can recode its rules and predict outcomes. These capabilities combine into a technology that will disrupt and transform an entire industry.
1. Robot Assigned Surgery: 
Hospitals that launched robotic surgery programs saw immediate and broad increases in the surgical techniques used compared with their laparoscopic minimally invasive counterparts. In 2013, 8.7% of surgeons performed robotic general surgery, compared with 35.1% in 2018. In 2018, 15.7% of surgeons also performed robotic general surgery. (Source)  
2.Virtual Nursing Assistants: Instead of searching for the cause of your symptoms, you can ask the virtual nursing assistant to guide you. If you have common complaints, you can seek medical advice and consult a doctor or a specialist. The virtual assistant can answer your questions 24/7, which is why you can consult it in real-time. This AI application is ideal for increasing patient engagement and preventing chronic conditions from worsening.   
3.Administrative Workflow: Artificial intelligence-driven insights can help practices improve patients' experiences and streamline their day-to-day workflows. Beyond these insights, narrow AI can help patients navigate their healthcare experience and receive more personalized interactions while saving staff time.  
4.Fraud Detection: Machine Learning algorithms can rapidly process and link thousands of data instances from seemingly unrelated datasets to detect suspicious patterns. Until now, these are the only tools any sector has to keep up with the ever-new defrauding schemes, which are getting more sophisticated. The question for someone who isn't a data scientist is "which algorithm to use to identify potential illicit transactions?".    
5.Dosing Error Reduction: According to WHO, one person dies every day because of preventable medication related errors in the United States alone. These errors also lead to harm for 1.3 million people every year. This represents a cost of 1% of global health expenditure. Patients' safety in a hospital is fundamental to ensuring that they are comfortable, trusting the professionals looking after them, and receiving the best possible care. It is fundamental to the nature of health care: the patient is in our care, and it must be our priority to guarantee their safety at all times.   
6.Connect Machine: IoT can significantly affect the logistics industry and supply chain, as objects become aware of their surrounding environment and can be re-routed more easily in the event of a disruptionSensor technology and connected devices are essential to asset management – the BT LDAT platform, which Gartner calls operational technology (OT), will expand the CIO's remit from IT to broader asset management.   
7.Clinical trial participation: Artificial intelligence algorithms combined with a digital infrastructure can assist in cleaning, aggregating, coding, storing, managing, and then displaying clinical trial data. Besides, improved electronic data capture should decrease human error in data collection and facilitate seamless integration with other databases.   
8.Preliminary Diagnosis: Companies with established data science and AI systems realize how important it is to implement their technology correctly to get the best results. The development of artificial intelligence has opened the door for new possibilities in inpatient diagnoses that are both efficient and cost-effective. However, the most effective way to achieve optimal results is to outsource this task to a reliable artificial intelligence service provider.   
9.Automated image diagnosis: Measurement of an individual's heart's structure can detect risks for cardiovascular diseases or problems that may require surgical or pharmacological treatment. Making imaging tests more automated could lead to faster decision-making and fewer diagnostic errors. 
10.Cybersecurity: A growing health care security threat comes from medical devices. As pacemakers and other equipment become Internet-connected, they are susceptible to the same vulnerabilities as other computer systems. To ensure patient safety, the FDA recommends both manufacturers and healthcare facilities take precautions to secure the device.
 
Adopting and implementing AI in healthcare poses challenges despite its potential benefits. Healthcare professionals and patients have not entirely depended on algorithms for diagnosing or planning treatments in the past. Nevertheless, gradually and steadily, individuals are adopting AI tools that can accurately diagnose issues, analyze clinical reports and identify genetic information at a much faster pace that may save lives. 
Interested in AI in Healthcare? Contact us.