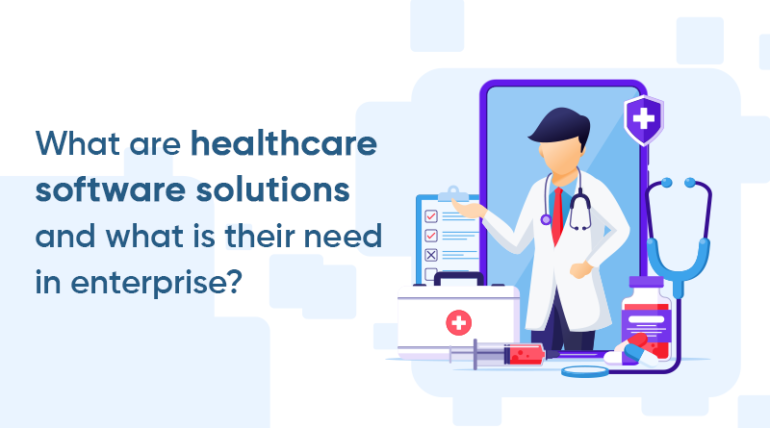 Experience the digital healthcare approach
The healthcare sector gained considerably from the wave of IT adoption. Although innovation and technology disrupted the traditional ethos of the healthcare sector yet, it benefited through altering the mode of operation and patient well-being.In fact, it transformed the concept of patient care which has reached a whole new level with artificial intelligence augmenting the accuracy and efficiency of treatment.Here, leveraging the notion of the software solution in the healthcare domain enabled the scope for exploration and innovation while guiding and helping both the healthcare practitioners and institutions to meet the daily medical requirement.
So, one cannot deny the growing importance of both healthcare software solutions as well as the company developing such software-based solutions.In the last six years, the global market for healthcare powered by the latest technologies has grown by approximately 30 %. According to secondary research, artificial intelligence (AI) based software solutions within the healthcare domain will further amplify the growth potential of the healthcare sector from USD 21 billion in 2018 to USD 32 billion by 2024.
Need for healthcare software solutions
Now, what is the role of medical or healthcare software? It is primarily used for storing, monitoring, interpreting, and analyzing patient data that can assist the healthcare team to access patient information with speed and accuracy. Especially for perennial illnesses, research and diagnosis is a prolonged and continuous process where patient data is an important aspect to create typologies and eventually an actionable treatment plan. Since the healthcare software solutions are specifically designed to cater to the healthcare domain with its focus on patient care and well-being apart from patient experience. Thus, the healthcare solution development companies emphasize crafting software with the vision of improving the healthcare management processes such as; logistics and CRM tools that can ease the communication process between the patient and the healthcare team which in turn can improve the patient experience.
Customized healthcare solutions for complex diseases are secured and easily scalable hence cost-effective in the long-run. A healthcare software solution ensures easy accessibility of patient history and information for doctors and the healthcare team to make important clinical decisions. It also enables access to remote medical images for diagnostic interpretation. Such real-time image collaboration between patients and doctors reduces the chance of delayed treatment. The healthcare and treatment records have huge value in clinical management, research on illness, and Federal health care policies. Let's look at a few healthcare software solution development companies that empowered the healthcare sector with secured technology thrust to create an agile healthcare environment;
Epic Systems plays an important role in maintaining patient data for a hassle-free registration, scheduling, and follow-up process.
Cerner Corporation ensures patient engagement and planned treatment.
Meditech can optimize the management system of a healthcare institution.
Choosing the right partner!
It is essential to analyze one's requirement for the healthcare software solutions basis in which a healthcare software solutions development company can be partnered to meet specific requirements that can ensure a robust software solution for seamless operation, medical insurance, billing, monitoring test results, and overall assistance in the hospitalization process. Such healthcare software solutions can benefit a healthcare institution in the following ways;
It can ease data storage and maintenance
It can make healthcare data easily accessible
It can focus on quality care
It improves healthcare transparency
It can boost patient satisfaction
Now, enterprise resource planning and patient management systems are two crucial factors in the healthcare domain which when digitalized empower the healthcare institution to automate routine tracing of medical equipment and monitoring of prescribed medicine intake. While the patient management system helps the healthcare team to digitally maintain and track patient records, medical history, prescriptions, and test results.
The final note!
Thus we can conclude that healthcare institutions should embrace healthcare software solutions to ensure cost-effective quality care to patients so that the healthcare team can concentrate on creating a positive patient experience while improving the quality of life.