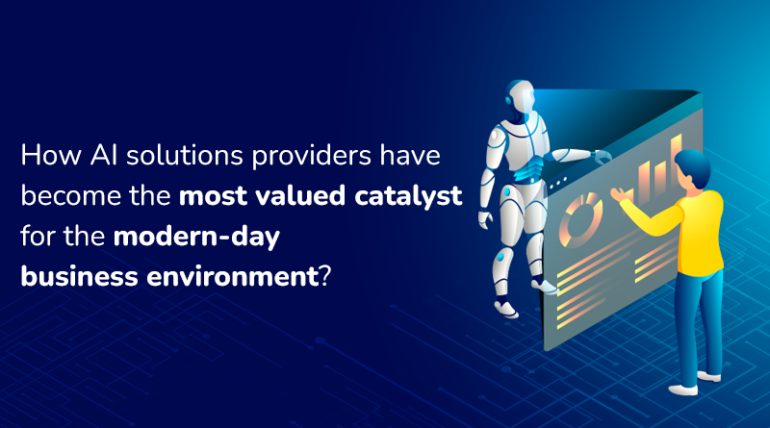 Every organization works towards realizing its goals and to gain profit by efficiently utilizing its resources. So, it is essential to identify the responsibilities that can be automated to save time for skilled and complicated tasks. This is possible through artificial intelligence (AI). AI in business intelligence opens the scope for robust and effective business operations.
Based on secondary research, it is observed that organizations invested in AI initiatives with the zeal to improve their current product and services. However, such cognitive technologies revolutionized their business model and made the whole process engaging.Depending on the vision and mission of a company, an AI solution for business continuity can prove immensely beneficial and become a deciding factor for the modern-day business environment. Let's now look at the AI solutions for businesses that are in practice and if they can be deployed on their own.
Improving customer support and engagement with AI
Customer support is the backbone of the service industry. During these disruptive times when meeting customer expectations and maintaining speed is essential for business sustenance, AI plays an important role through the deployment of chatbots into the system. Initially, the concept of chatbot began with preprogrammed answers, and eventually, with cognitive learning, chatbots started addressing more complicated queries. According to market research, the retail industry alone deployed approximately 2.6 billion chatbots by 2019. This enhanced business agility and hence customer satisfaction.
Gaining control through AI
The leading organizations adopted AI in business intelligence through data analytics. To gain control over the consumer market, an enterprise needs to collect data on the product or service considering the market fluctuations for predictive analytics. This can ensure accuracy in business prediction hence directly benefiting the organization. This is especially important due to the current pandemic situation where technology can completely transform the business environment.
Embracing speed with precision
Data transfer powered by AI can happen much faster with precision hard to ignore. This can boost the capability of the application based on the continuous transmission of data. Especially during the migration of on-premises data centers to cloud environments, AI plays an important role.
Securing the organization
Cyber threats and security violations are common these days but what makes the work of the IT team difficult is to differentiate between a false alarm and real threat. Here, AI can detect foreign intrusions within the network. Based on the real-time updates of AI, the IT team can identify noise associated with cyber threats and anomalies.
Robust hiring process
Good hiring can benefit a company in the long-run. Hence, many companies incorporated AI in their recruitment process. AI-empowered the human resource and talent management teams with technology to make the hiring process seamless. The software powered by AI augments the scope of tracking a candidate. This improves the process of identifying top talents, following up with the candidate, and closing the recruitment for the job role with success.
Experience the transformation through an AI solution provider
Thus, it is evident that an AI solution implemented within an organizational structure can benefit it with success as well as resilience; however, it is pertinent to mention here that an organization must induce AI into their system through an AI solution provider to gain the most from it. An AI solution provider can analyze the requirement and hardware compatibility before initiating any change since there is no concept of "same-size-fits-all" when adopting a robust technology. Based on the organizational goal and structure, an AI solution provider can implement the best AI practice that will suit the function of that particular company. This adoption will be then cost-effective and appropriate to improve business operation. Hence it won't be incorrect to say that the AI service providers have become an important aspect in both improving and altering the business environment.