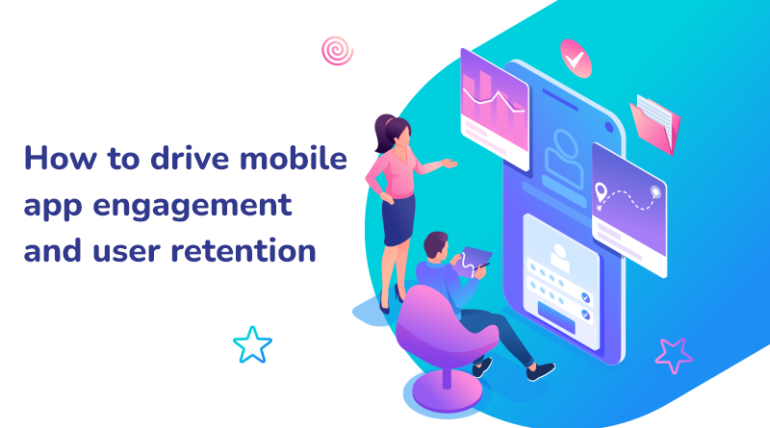 App engagement can refer to a person's activity in an app over an extended period. The number of times they open the app and their duration in the app and their actions. This can include visits, purchases, and other types of interactions.
App engagement metrics are:
Active daily users
Number of users monthly
Retention rate
Turnover
Total number of sessions
Session duration
An app's success and profitability are driven by a long-term relationship with users, which is why you need to focus on app engagement, not just downloads.
What Is a Retention Rate?
According to many companies, user retention is defined in its way. It can be defined as the percentage of users who return to an app after the first session for three months. The higher the retention, the more audience interacts with the app and becomes loyal.
Engaging users and user retention can tell how well the app matches user expectations and makes users stay on the app. Ultimately, that means you have more chances to monetize the app.
How to Make Your App More Engaging and Retain Users
Mobile app users have no universal recipe for enticing their attention, time, and loyalty, depending on the app's nature and business niche. Yet, we have found five common ways to boost user engagement and retention.
Streamline your onboarding
Make your users on board with a valuable, intuitive, and transparent experience, so they stay. Be informative while keeping it simple. Don't overwork your users with too many steps when logging in or creating an account; instead, provide multiple signup options through tools like Gmail or Facebook.
Contextual instructions can help a user learn your app's main features more effectively than lengthy tutorials.
Send Relevant Push Notifications
According to Airship, app users' retention rates are 190% higher if they receive one or more push notifications within the first 90 days. The goal should be to remind users of the value that matters to them, not to bombard them with tons of notifications about irrelevant issues, which will only lead to the opposite, which is a higher uninstall rate.
Consider this: When you enter a local coffee shop, you feel appreciated when the barista recognizes your name and knows your favorite drink. Similarly, personalization improves conversion rates for mobile apps. By providing relevant information to the customer and based on their profile data and user behavior, you can shape the customer journey.
Communicate Two-Way
Building a relationship with users involves communicating with them continually, understanding their needs and expectations, and trying to help them. This can be accomplished by offering a variety of communication options.
In-app messages, for example, can be used to ask users for feedback, inform them of the latest updates, or delight them with special discounts. Sending tailored messages can help you keep your audience engaged. Another way to enhance engagement is to enable in-app chats. They allow users to ask their questions quickly or obtain information. AI-enabled chatbots can help you meet user needs in real-time.
Regularly update and maintain your app
If you regularly improve and polish your app, users will become more engaged with it. Whether it's an MVP product with a critical set of features or a full-fledged mobile app that can be used anywhere, there is always room for improvement.
Top Things To Keep In Mind
Find Opportunities In The Market
To develop habit-forming behaviors, all successful apps build their app around users' daily routine and emotions. Your users' needs will play a significant role in how frequently they use your app, and any software you build must address the needs of your users. Think of brands like Spotify, Uber, or Instagram, which understand their audience's pain points and build their features to fit their daily routine. 
Iterate constantly, iterate a lot 
Apps iterate, whether they are minimum viable products or polished, fully functioning full-on products. Regularly adding new features and adding personalized content will ensure users remain interested and engaged. To determine what features of the app drive usage, it's crucial to track analytics, observe user behavior, and listen to feedback. This information is essential to product road mapping and helps determine which updates users find valuable and compelling. 
 Releasing regular updates and improvements to your app will help you to maintain the users. If you stop updating your app, your users will leave you to your competitors, who will offer better alternatives. If they discover something better, they'll uninstall your app, which will increase your uninstall rates.
Don't underestimate the user experience 
No generic formula exists to boost user engagement and retention rates, but it is essential to maintain equilibrium between various tactics and overall user experience. Just because push notifications are effective for one brand does not mean it is the right approach for yours. When you adopt an app marketing approach, you should decide whether it's the right thing for your particular app. Will it add value, or will it frustrate users? The minute you irritate users, you're sacrificing your retention rates. Weigh your options and determine the best approach.
Closing Thoughts: A Shift To In-App Behaviors
Today, success cannot merely be achieved by acquiring users but by retaining them to build brand loyalty. App engagement is as meaningful as user acquisition, if not more important. Converting users into loyal, long-term customers will increase the average lifetime value of the app. These methods can boost user retention and engagement to ensure your application remains competitive in the highly competitive app world.